Dissociative disorders are mental disorders that involve experiencing a disconnection and lack of continuity between thoughts, memories, surroundings, actions and identity.
People with dissociative disorders escape reality in ways that are involuntary and unhealthy and cause problems with functioning in everyday life.
Dissociative disorders usually develop as a reaction to trauma and help keep difficult memories at bay. Symptoms — ranging from amnesia to alternate identities — depend in part on the type of dissociative disorder you have.
Times of stress can temporarily worsen symptoms, making them more obvious.
Treatment for dissociative disorders may include talk therapy (psychotherapy) and medication.
Although treating dissociative disorders can be difficult, many people learn new ways of coping and lead healthy, productive lives.
Symptoms
Signs and symptoms depend on the type of dissociative disorders you have, but may include:
Memory loss (amnesia) of certain time periods, events, people and personal information
A sense of being detached from yourself and your emotions
A perception of the people and things around you as distorted and unreal
A blurred sense of identity
Significant stress or problems in your relationships, work or other important areas of your life
Inability to cope well with emotional or professional stress
Mental health problems, such as depression, anxiety, and suicidal thoughts and behaviors
There are three major dissociative disorders defined in the Diagnostic and Statistical Manual of Mental Disorders (DSM-5), published by the American Psychiatric Association:
Dissociative amnesia

 The main symptom is memory loss that's more severe than normal forgetfulness and that can't be explained by a medical condition. You can't recall information about yourself or events and people in your life, especially from a traumatic time. Dissociative amnesia can be specific to events in a certain time, such as intense combat, or more rarely, can involve complete loss of memory about yourself. It may sometimes involve travel or confused wandering away from your life (dissociative fugue). An episode of amnesia usually occurs suddenly and may last minutes, hours, or rarely, months or years.
Dissociative identity disorder

 Formerly known as multiple personality disorder, this disorder is characterized by "switching" to alternate identities. You may feel the presence of two or more people talking or living inside your head, and you may feel as though you're possessed by other identities. Each identity may have a unique name, personal history and characteristics, including obvious differences in voice, gender, mannerisms and even such physical qualities as the need for eyeglasses. There also are differences in how familiar each identity is with the others. People with dissociative identity disorder typically also have dissociative amnesia and often have dissociative fugue. Fugue is a state or period of loss of awareness of one's identity, often coupled with flight from one's usual environment, associated with certain forms of hysteria and epilepsy. Dissociative fugue, formerly fugue state or psychogenic fugue, is a dissociative disorder and a rare psychiatric disorder characterized by reversible amnesia for personal identity, including the memories, personality, and other identifying characteristics of individuality. The state can last days, months or longer.
Depersonalization-derealization disorder

 This involves an ongoing or episodic sense of detachment or being outside yourself — observing your actions, feelings, thoughts and self from a distance as though watching a movie (depersonalization). Other people and things around you may feel detached and foggy or dreamlike, time may be slowed down or sped up, and the world may seem unreal (derealization). You may experience depersonalization, derealization or both. Symptoms, which can be profoundly distressing, may last only a few moments or come and go over many years.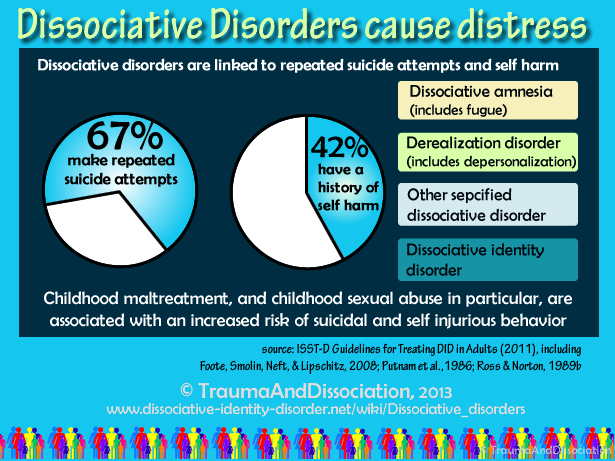 When to see a doctor
Some people with dissociative disorders present in a crisis with traumatic flashbacks that are overwhelming or associated with unsafe behavior.
People with these symptoms should be seen in an emergency room.
If you or a loved one has less urgent symptoms that may indicate a dissociative disorder, call your doctor.
Suicidal thoughts or behavior
If you have thoughts of hurting yourself or someone else, call 911 or your local emergency number immediately, go to an emergency room, or confide in a trusted relative or friend. Or call a suicide hotline number — in the United States, call the National Suicide Prevention Lifeline at 1-800-273-TALK (1-800-273-8255) to reach a trained counselor.
Causes
Dissociative disorders usually develop as a way to cope with trauma.
The disorders most often form in children subjected to long-term physical, sexual or emotional abuse or, less often, a home environment that's frightening or highly unpredictable.
The stress of war or natural disasters also can bring on dissociative disorders.
Personal identity is still forming during childhood.
So a child is more able than an adult to step outside of himself or herself and observe trauma as though it's happening to a different person.
A child who learns to dissociate in order to endure an extended period of youth may use this coping mechanism in response to stressful situations throughout life.
Risk factors
People who experience long-term physical, sexual or emotional abuse during childhood are at greatest risk of developing dissociative disorders.
Children and adults who experience other traumatic events, such as war, natural disasters, kidnapping, torture, or extended, traumatic, early-life medical procedures, also may develop these conditions.
Complications
People with dissociative disorders are at increased risk of complications and associated disorders, such as:
Self-harm or mutilation
Suicidal thoughts and behavior
Sexual dysfunction
Alcoholism and drug use disorders
Depression and anxiety disorders
Post-traumatic strFor dissociative amnesia:ess disorder
Personality disorders
Sleep disorders, including nightmares, insomnia and sleepwalking
Eating disorders
Physical symptoms such as lightheadedness or non-epileptic seizures
Major difficulties in personal relationships and at work
For diagnosis of dissociative disorders, the DSM-5 lists these criteria:
Dissociative amnesia:
You've had one or more episodes in which you couldn't remember important personal information — usually something traumatic or stressful — or you can't remember your identity or life history.
This memory loss is too extensive to be explained by ordinary forgetfulness.
Your episodes of memory loss don't occur only during the course of another mental health disorder, such as post-traumatic stress disorder.
Also, your symptoms are not due to alcohol or other drugs, and they're not caused by a neurological or other medical condition, such as amnesia related to head trauma.
You may also experience dissociative fugue, where you purposefully travel or experience confused wandering that involves amnesia — inability to remember your identity or other important personal information.
Your symptoms cause you significant stress or problems in your relationships, work or other important areas of your life.
Dissociative identity disorder
You display, or others observe, two or more distinct identities or personalities, which may be described in some cultures as possession that is unwanted and involuntary.
Each identity has its own pattern of perceiving, relating to and thinking about yourself and the world.
You have recurrent gaps in memory for everyday events, skills, important personal information and traumatic events that are too extensive to be explained by ordinary forgetfulness.
Your symptoms are not a part of broadly accepted cultural or religious practice.
Your symptoms are not due to alcohol or other drugs, or a medical condition. In children, symptoms are not due to imaginary playmates or other fantasy play.
Your symptoms cause you significant stress or problems in your relationships, work or other important areas of your life.
Depersonalization-derealization
Definition
Depersonalization-derealization disorder occurs when you persistently or repeatedly have the feeling that you're observing yourself from outside your body or you have a sense that things around you aren't real, or both.
Feelings of depersonalization and derealization can be very disturbing and may feel like you're living in a dream.
Many people have a passing experience of depersonalization or derealization at some point.
But when these feelings keep occurring or never completely go away and interfere with your ability to function, it's considered depersonalization-derealization disorder.
This disorder is more common in people who've had traumatic experiences.
Depersonalization-derealization disorder can be severe and may interfere with relationships, work and other daily activities.
The main treatment for depersonalization-derealization disorder is talk therapy (psychotherapy), although sometimes medications also are used.
Symptoms
Persistent and recurrent episodes of depersonalization or derealization or both cause distress and problems functioning at work or school or in other important areas of your life.
During these episodes, you are aware that your sense of detachment is only a feeling and not reality.
The experience and feelings of the disorder can be difficult to describe. Worry about "going crazy" can cause you to become preoccupied with checking that you exist and determining what's actually real.
Symptoms usually begin in the mid- to late teens or early adulthood.
Depersonalization-derealization disorder is rare in children and older adults.
Depersonalization symptoms
Symptoms of depersonalization include:
Feelings that you're an outside observer of your thoughts, feelings, your body or parts of your body — for example, as if you were floating in air above yourself
Feeling like a robot or that you're not in control of your speech or movements
The sense that your body, legs or arms appear distorted, enlarged or shrunken, or that your head is wrapped in cotton
Emotional or physical numbness of your senses or responses to the world around you
A sense that your memories lack emotion, and that they may or may not be your own memories.
Derealization symptoms
Symptoms of derealization include:
Feelings of being alienated from or unfamiliar with your surroundings — for example, like you're living in a movie or a dream
Feeling emotionally disconnected from people you care about, as if you were separated by a glass wall
Surroundings that appear distorted, blurry, colorless, two-dimensional or artificial, or a heightened awareness and clarity of your surroundings
Distortions in perception of time, such as recent events feeling like distant past
Distortions of distance and the size and shape of objects
Episodes of depersonalization-derealization disorder may last hours, days, weeks or even months at a time. In some people, these episodes turn into ongoing feelings of depersonalization or derealization that may periodically get better or worse.
When to see a doctor
Passing feelings of depersonalization or derealization are common and aren't necessarily a cause for concern. But ongoing or severe feelings of detachment and distortion of your surroundings can be a sign of depersonalization-derealization disorder or another physical or mental health disorder.
See a doctor if you have feelings of depersonalization or derealization that:
Are disturbing you or are emotionally disruptive
Don't go away or keep coming back
Interfere with work, relationships or daily activities
Causes
The exact cause of depersonalization-derealization disorder isn't well-understood.
Some people may be more vulnerable to experiencing depersonalization and derealization than others, possibly due to genetic and environmental factors.
Heightened states of stress and fear may trigger episodes.
Symptoms of depersonalization-derealization disorder may be related to childhood trauma or other experiences or events that cause severe emotional stress or trauma.
Risk factors
Factors that may increase the risk of depersonalization-derealization disorder include:
Certain personality traits that make you want to avoid or deny difficult situations or make it hard to adapt to difficult situations
Severe trauma, during childhood or as an adult, such as experiencing or witnessing a traumatic event or abuse
Severe stress, such as major relationship, financial or work-related issues
Depression or anxiety, especially severe or prolonged depression, or anxiety with panic attacks
Using recreational drugs, which can trigger episodes of depersonalization or derealization
Complications
Episodes of depersonalization or derealization can be frightening and disabling. They can cause:
Difficulty focusing on tasks or remembering things
Interference with work and other routine activities
Problems in relationships with your family and friends
Anxiety or depression
A sense of hopelessness
Treatments
Dissociative disorders treatment may vary based on the type of disorder you have, but generally include psychotherapy and medication.
Psychotherapy
Psychotherapy is the primary treatment for dissociative disorders. This form of therapy, also known as talk therapy, counseling or psychosocial therapy, involves talking about your disorder and related issues with a mental health professional.
Look for a therapist with advanced training or experience in working with people who have experienced trauma.
Your therapist will work to help you understand the cause of your condition and to form new ways of coping with stressful circumstances.
Over time, your therapist may help you talk more about the trauma you experienced, but generally only when you have the coping skills and relationship with your therapist to safely have these conversations.
Medication
Although there are no medications that specifically treat dissociative disorders, your doctor may prescribe antidepressants, anti-anxiety medications or antipsychotic drugs to help control the mental health symptoms associated with dissociative disorders.
Prevention
Children who are physically, emotionally or sexually abused are at increased risk of developing mental health disorders, such as dissociative disorders. If stress or other personal issues are affecting the way you treat your child, seek help.
Talk to a trusted person such as a friend, your doctor or a leader in your faith community.
Ask for help locating resources such as parenting support groups and family therapists.
Look for churches and community education programs that offer parenting classes that also may help you learn a healthier parenting style.
If your child has been abused or has experienced another traumatic event, see a doctor immediately. Your doctor can refer you to a mental health professional who can help your child recover and adopt healthy coping skills.
---
I will be posting something important about mental illness every day throughout the month of May on my blog in honor of Mental Health Awareness Month.
Please keep visiting my blog My Loud Whispers of Hope and look for statistics or other beneficial information related to mental illness to increase awareness, educate, reduce mental illness stigma and prevent suicides.
It is crucial and imperative for all of us to get involved and save lives.
So, please visit my blog every day, but especially every day throughout the month of May.
Mental illness awareness and education saves lives.
Opening the dialogue about mental illness saves lives.
Sharing your story will help save lives. 
Please see my post about my campaign titled, "There's Glory in Sharing Your Story." I need your help.  Please let me know if you want to share your story and I will post it on my blog.
Please check out
stories from last year.
Thank you from the bottom of my heart.
You are all FABULOUS!!!
---
© 2019 Susan Walz | myloudwhispersofhope.com | All Rights Reserved
Resources:  
Palmer BA (expert opinion). Mayo Clinic, Rochester, Minn. Oct. 30, 2016.Depersonalization/derealization disorder. In: Diagnostic and Statistical Manual of Mental Disorders DSM-5. 5th ed. Arlington, Va.: American Psychiatric Association; 2013. http://www.psychiatryonline.org. Accessed March 20, 2017.

Gentile JP, et al. Stress and trauma: Psychotherapy and pharmacotherapy or depersonalization/derealization disorder. Innovations in Clinical Neuroscience. 2014;11:37.

Gabbard GO, ed. Depersonalization/derealization disorder. In: Gabbard's Treatments of Psychiatric Disorders. 5th ed. Arlington, Va.: American Psychiatric Association; 2014. http://www.psychiatryonline.org. Accessed March 20, 2017.

Simeon D. Depersonalization/derealization disorder: Epidemiology, pathogenesis, clinical manifestations, course, and diagnosis.http://www.uptodate.com/home. Accessed March 20, 2017.

Simeon D. Pharmacotherapy of depersonalization/derealization disorder.http://www.uptodate.com/home. Accessed March 20, 2017.

Simeon D. Psychotherapy of depersonalization/derealization disorder.http://www.uptodate.com/home. Accessed March 20, 2017.

Palmer BA (expert opinion). Mayo Clinic, Rochester, Minn. March 24, 2017
---