Fill in the blank…
A _____________can make positive difference in someone's life.
police officer
secretary
politician (a good one)
teacher
banker
McDonald's associate
Custodian
homeless person
pastor
social worker
student
nurse
car mechanic
another addict
boy
girl
man
woman
child
ALL OF THE ABOVE
Anyone, anywhere can be the one to make a difference in the life of someone with a mental health or substance use challenge – if they know what to do and what to say.

Getting the Word Out
Mental Health First Aid teaches you how to identify, understand and respond to signs of mental illnesses and substance use disorders in your community.
Be the Difference
Take a Course
Be an Instructor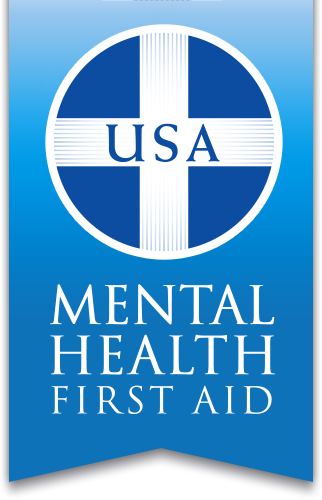 Did you know:
the United States, almost half of adults (46.4 percent) will experience a mental illness during their lifetime.

5 percent of adults (18 or older) experience a mental illness in any one year, equivalent to 43.8 million people.

Of adults in the United States with any mental disorder in a one-year period, 14.4 percent have one disorder, 5.8 percent have two disorders and 6 percent have three or more.

Half of all mental disorders begin by age 14 and three-quarters by age 24.

In the United States, only 41 percent of the people who had a mental disorder in the past year received professional health care or other services.
©2019 National Council for Behavioral Health. All Rights Reserved.
---
Every MAY I write a POST A DAY about mental health. Even though I have been so busy and have not written as much lately on my blog, I realize how important this month is to increase awareness and reduce the stigma of mental illness, addiction and suicide. I will try to add new material, facts and statistics but some of my posts and information will be from previous years as well.
I will be posting something important about mental illness every day throughout the month of May on my blog in honor of Mental Health Awareness Month.
Please keep visiting my blog My Loud Whispers of Hope and look for statistics or other beneficial information related to mental illness to increase awareness, educate, reduce mental illness stigma and prevent suicides.
It is crucial and imperative for all of us to get involved and save lives.
So, please visit my blog every day, but especially every day throughout the month of May.
Mental illness awareness and education can save lives.
Opening the dialogue about mental illness can save lives.
Sharing your story can save lives. 
Please see the following post about my campaign started last year and that I want to continue this year as well.  "There's Glory in Sharing Your Story." I need your help and hope you will be interested in participating in my new campaign. Thank you for checking it out and please let me know if you want to share your story and I will add your story to my blog. 
Much love and hugs, Sue
Please check out
stories from last year.
Thank you from the bottom of my heart.
 © 2019 myloudwhispersofhope.com | All Rights Reserved