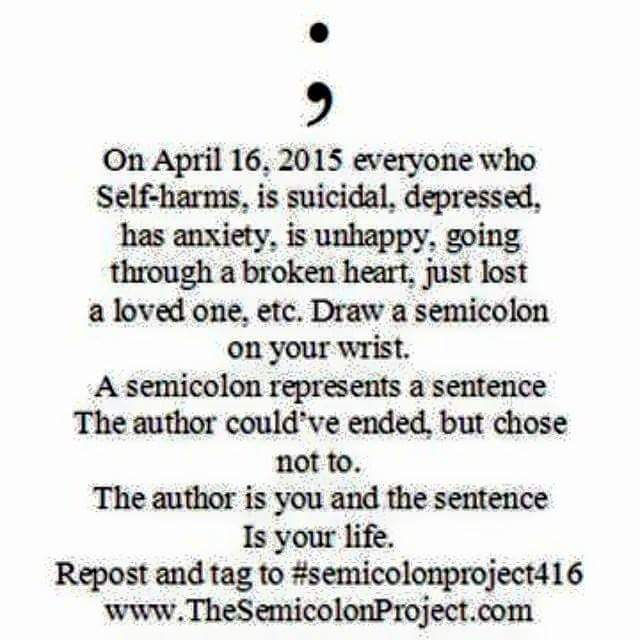 My name is Amy Bleuel.
I am 31 and I struggle with Suicide
---
Life is full of trials that may bring a person to experience great pain or, if we're lucky, bring us great joy. Those experiences, the good and the bad, are carried through life with us. To not only shape and change whom we are, but to also leave us with the lessons we have learned.
Growing up, for me, was one trial after another. I spent years wondering what I would eventually learn from my experiences and why I had to endure these things. At some points, I even wondered if there could be a way out.
From even a young age, I learned how to endure and to fight. At the age of 6, 2 years after my parents divorced, I chose to go live with my father and his new wife. Living with my father was great until my stepmother began abusing me physically, mentally and even emotionally. I endured her abuse until I was taken from my father and put into state custody. I remained there while I waited for my mother to come for me. This happened at the age of 8, marking the start of my journey into "the system".
As a young child, I'd already experienced more pain than I even imagined possible. Going forward with my life was difficult because of the years I'd been abused. I'd been left with a tendency towards seeking unhealthy kinds of attention and a habit for choosing paths that weren't beneficial for my life.
When I was 13, I was raped for the first time. Rather than being reassured and comforted after the assault, I was held responsible for a crime I did not commit and put back into the system. The next five years of my life were spent in darkness and total solitude. I was even heavily medicated with drugs used to treat mental illnesses despite never being diagnosed with one at the time. I fell victim to self-injuring behavior more than once and, on a number of occasions, even attempted to take my life.
I had little to no respect for myself and I felt that I was worthless. The people around me, especially those who were supposed to love me, never showed me that I was worth the very air I breathed. Their attitude towards me became my attitude about me and the mentality through which I viewed myself.
At the age of 18, I lost my father to suicide. I had been at a low point for quite some time, but this brought more pain to my life than anything I had ever experienced. With that pain lingering in the shadows, I was sent off to begin my life as an adult. I was fresh out of the system and completely unaware of where or how to begin my life as an adult, so at that point, after 5 years of not being in school, I obtained my HSED and went off to college.
Beginning college brought an entirely new set of trials to my life. I started experimenting with drugs, which led me to abuse prescription painkillers. I also struggled greatly with depression during that period, which reflected very poorly on my performance in school. It was during my first couple of years in college that I was raped two more times and, at the hands of an ex-boyfriend, I experienced the loss of my unborn child.
Throughout my life, through the good times and the bad, I held closely to my faith in God. There were times that I wavered in my Faith and wondered why I had to experience such pain and times when I wondered how could a God of love allow me to go through this?
Meeting my husband was the turning point in my life. For the first time, I experienced true love and I was, finally, able to start healing. It was through this journey that I embraced my calling and set out to help others who felt they were less than their true worth. I knew I wanted to impact the world and to make a difference, which is how Project Semicolon began.
It is the love of my Savior that empowered me to make a difference and to love the world with a Christ-like love even when the world hadn't loved me. It is only through God that I am here to tell you my story and empower you all to continue yours. Without His love and grace I know that my story would never have been told. I hope that you all know that you are loved and that you are worth saving. My story isn't over yet, neither is yours.
Stay Strong; Love Endlessly; Change Lives
Sadly Amy Bleuel died by suicide on March 31, 2017
What a difference and positive impact she made in our world.
She saved many people's lives and has opened up the conversation about suicide prevention and mental illness and helped begin to reduce the stigma of mental illness and suicide.
RIP Amy Bleuel. You will be greatly missed, but never forgotten.
Your story will live on forever and your work is not done yet. It will never be done.
I know my story is not over yet…
PROJECT SEMICOLON'S MISSION
Within the belief that suicide is generally preventable, the mission of Project Semicolon is to help reduce the incidents of suicide in the world through connected community and greater access to information and resources.
We believe that suicide prevention is the collective responsibility of each and every person on the planet.
75% of suicide victims share their plans – I have many times…
90% of suicides are diagnoseable and treatable – hopefully

22 daily suicides are Veterans of the U.S. Military – that saddens me greatly
Project Semicolon is an organization dedicated to the prevention of suicide. Our work is based on the foundation and belief that suicide is preventable and everyone has a role to play in preventing suicide. Through raising public awareness, educating communities, and equipping every person with the right tools, we know we can save lives.
Project Semicolon is a national 501(c)(3) nonprofit organization governed by our Board of Directors and operating under the nonprofit laws of the State of Colorado. Project Semicolon works at the international, national, state and local levels to prevent suicide using a public health model in suicide prevention; concentrating its efforts on education and awareness.  Project Semicolon operates by the guidelines published in the Surgeon Generals Call to Action to Prevent Suicide (1999) and the National Strategy for Suicide Prevention (2012). Over the years, Project Semicolon's Board of Directors, staff, and volunteers have included survivors who bring a special affinity for suicide prevention, along with other skills, to ensure organizational growth, development and effective management and operational talents to the agency.
© 2017 – Project Semicolon | Mental Health Community
---
September is Suicide Prevention Awareness Month
So, I will write and share a post every day during the month of September containing important facts, statistics and educational information about suicide and suicide prevention. The name of my campaign is called…
Remember in September.

Prevent suicide yesterday.

Today, may be too late.
Don't let there be anymore "what if" or "if I only" yesterday statements.
Make your today never become a yesterday you will regret. 
Save lives. Talk about it. Don't wait. Get help. Don't let yesterday become too late.
If you have any stories or information about suicide prevention you would like me to share on my blog, please let me know. I would love to share any information you have. Thank you in advance for your contributions.
Together we can do this. It takes a village…
and this wonderful and beautiful blogging community…
Copyright © 2018 Susan Walz | myloudbipolarwhispers.com | All Rights Reserved