***Trigger Warning***
The following post contains content about suicide, suicidal thoughts and a suicide attempt.
---
One time, not too long ago. Suicide was my constant companion. Suicidal thoughts consumed my mind and life. Suicidal ideations overwhelmed me almost to a point that you could call it an obsession. I could not get those dark morbid suicidal thoughts and even suicidal planning out of my head. Suicidal thoughts were at my darkest moments my only hope I had, as scary and sad as that sounds. It is gruesome and true.
I tried endlessly to distract myself from thinking the way I did so many times before, but time and time again the thoughts came back, unannounced, unasked, uninvited, unwanted and unwelcome. Seemingly, my suicidal thoughts were not my own, but came from someone or something else. No matter where they came from they were a part of me, yelling at me inside my mind.
Suicide was part of my name.
Suicide was in my name…
"Sue a side"
---
Suicide is much more than seven letters combined together to form a word.
Suicide is more than a symptom.
Suicide is more than a statistic. Suicide is real. Suicide is very painfully real.
Because it is suicide prevention month I wanted to share this post I first wrote back in February 2018. I want to share more than facts and statistics. I want to share what suicide really is.
In case you are unfamiliar with my story, I want to give you some background information before I share the following post I wrote on February 27, 2018, ten days after the morning I should have died. The day I had reached an elated mania. The day I had reached a psychotic state. The day I no longer fought my suicidal ideations. On this day I had no will to live. On this day I was gone. On this day I had NO HOPE.
My brain lied to me and I felt happy and peaceful because I was finally going to meet Jesus. I was ready. So, I took over 120 Klonopin (Benzodiazepine), handfuls of the sleeping pill Ambien and a handful of Depakote (used to treat bipolar) and typed good-by letters on social media until I could not keep my eyes open any longer. I closed my eyes to fall asleep and never wake up again.
I woke up to the loud explosions of policeman pounding on my bedroom window and then I fell hard and fast on my bedside table as I tried to stand up. This caused black bruises on my body and a large bump on my head. I remember nothing else. I have no memory whatsoever of the next four or five days of living. I was in a black out state caused from overdosing on Klonopin.
I want to be a voice for suicide prevention and awareness. I want to educate others by sharing my story and give insight into the mind of a person that should have died by suicide and lived to tell her story.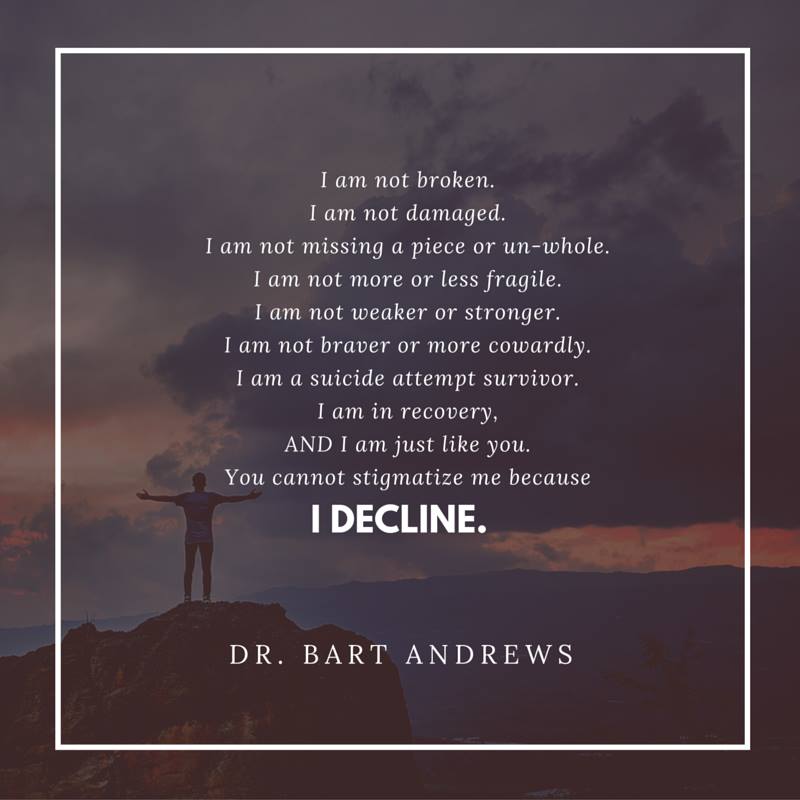 I have had numerous suicide attempts before over a 25 year period. My very first attempt was 20 years ago. My first and my last, and I mean last attempt, were the most serious, but this last attempt was the worst. I should have died, but God saved my life, again. This time it was significantly different than ever before. I had no fight in me. I was ready to die. I always fought my suicidal ideations in the past, but not this time. The voices told me I had no choice and it was time to die. I was at peace and ready to meet Jesus. I was happy.  That is what is so scary. At the time, it was not scary because I was in psychosis. Replaying those lies in my mind and remembering the peace I felt is extremely scary and horrifies me.
I had many warnings to get help, but because I was in a manic mixed state I refused to get help and was in denial. Bottom line, I was not in a good place and it was the scariest darkest moment I have ever reached. I want to share this part of my story, so I can help others.
I hope this information was enough to catch you up to this point of my life, so you will understand why I wrote the following post on…
February 27, 2018
The Fear of Stigma Related to My suicide Attempt
written by Susan Walz
One day, my understanding of my suicide attempt will become much clearer, maybe never crystal clear, but with God's everlasting love and grace, my glass will sparkle and shine brightly.
Know the Five Signs for Someone who May be Suicidal
Personality changes
Agitated – increased anger
Withdrawn – increased isolation
Poor self-care
Hopeless
I had all these signs and more for many months, but I didn't want help and thought I could keep fighting my suicidal ideations. I was very wrong.
According to statistics, in the United States, someone dies by suicide every 13 minutes, and each death intimately affects at least six others, according to the American Association of Suicidology. Between 1989 and 2013, there were 825,832 suicides, leaving an estimated 4.95 million survivors behind, the AAS says.
If you are having suicidal thoughts, please get help right away and do not make the same mistakes I did. Thank you.
Reach out, connect, inspire hope, and offer help.
---
September is Suicide Prevention Awareness Month
So, I will write and share a post every day during the month of September containing important facts, statistics and educational information about suicide and suicide prevention. The name of my campaign is called…
Remember in September.

Prevent suicide yesterday.

Today, may be too late.
Don't let there be anymore "what if" or "if I only" yesterday statements.
Make your today never become a yesterday you will regret. 
Save lives. Talk about it. Don't wait. Get help. Don't let yesterday become too late.
If you have any stories or information about suicide prevention you would like me to share on my blog, please let me know. I would love to share any information you have. Thank you in advance for your contributions.
Together we can do this. It takes a village…
and this wonderfully beautiful blogging community…
24/7 CRISIS SUPPORT
Copyright © 2018 Susan Walz | myloudbipolarwhispers.com | All Rights Reserved