I found this wonderful video on the blog Better Bipolar. It is a wonderful bipolar and mental health blog. Please stop by and visit it sometime.
Please watch this video.
It is very important and contains valuable and possibly life saving information.
Suicide: Here's What Nobody is Talking About
I hope  you enjoyed the video and found it as fascinating as I did. This is not knew information to me or many others. I believe so many of us have heard this before, but did not want to believe it or felt like it didn't pertain to us.
It isn't until you experience it many times throughout the years that you realize undoubtedly it is very true and accurate information. We all need to pay attention to this and evaluate the cocktail of medications we are taking and if our behaviors and feelings and pain are related to the mental illness we have been diagnosed with or if they are caused from and/or worsened from the cocktail of pharmaceuticals we are having for breakfast and two, three or more times throughout the day.
Please pay close attention to what you are putting into your body. I wish I would have stopped taking Klonopin sooner, and better yet I wish I never took any benzodiazepines. Be aware, learn and listen to the new information, facts and possible dangers of psychotropic medications.
I wholeheartedly agree with the following words. I concur from my own personal lived experience from Klonopin, a Benzodiazepine used to treat anxiety.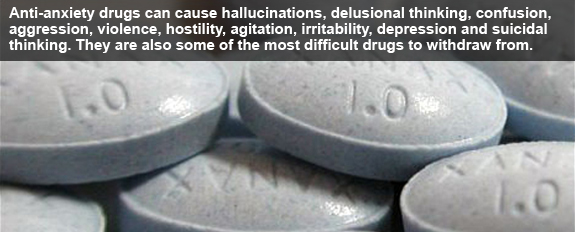 If you have suicidal thoughts, please get help.
It is imperative to seek medical attention and treatment when you need it.
Remember it is okay not to be okay. Be your best advocate. Remember sometimes less can be better. Live your life mentally well.
---
September is Suicide Prevention Awareness Month
So, I will write and share a post every day during the month of September containing important facts, statistics and educational information about suicide and suicide prevention. The name of my campaign is called…
Remember in September.

Prevent suicide yesterday.

Today, may be too late.
Don't let there be anymore "what if" or "if I only" yesterday statements.
Make your today never become a yesterday you will regret. 
Save lives. Talk about it. Don't wait. Get help. Don't let yesterday become too late.
If you have any stories or information about suicide prevention you would like me to share on my blog, please let me know. I would love to share any information you have. Thank you in advance for your contributions. Together we can do this. It takes a village…
World Suicide Prevention Day
is on
Monday, September 10, 2018
Light a Candle
and Place it by a Window
at 8:00 P.M.
to show your support for suicide prevention,
to remember a lost loved one,
and for the survivors of suicide.
---
Copyright © 2018 Susan Walz | myloudbipolarwhispers.com | All Rights Reserved