Here is a very small list of too many beautiful people who died by suicide… and whose precious lives we lost. We miss them and will remember them with love and respect forever and always. RIP
14 Famous People Who Died By Suicide 
By Nicole Bitette, New York Daily News, Updated: Tuesday, September 8, 2015, 1:10 PM
KURT COBAIN Nirvana frontman Kurt Cobain made it clear through his music and several interviews that he was battling internal demons.
The 27-year-old musician, who is often credited with sparking the grunge movement of the early 1990s, shot himself in his Washington state home on April 5, 1994. He previously tried committing suicide in his Seattle home a few months prior in March of the same year. Cobain left behind his wife, Courtney Love and a young daughter, Frances Bean, who was just one when her dad took his own life.
---
Robin Williams
ROBIN WILLIAMS The suicide of comedian and Oscar-winning actor Robin Williams was a shocking loss to all those who found joy in his films and stand-up routines. Williams was found dead in his home in Tiburon, Calif., on Aug. 11, 2014, after hanging himself on his bedroom doorknob. He suffered from bipolar disorder throughout his life. Williams was known for his roles in the films, "Mrs. Doubtfire," "Good Will Hunting," "Dead Poets Society," "Hook," "Jumanji," "Aladdin," "The Bird Cage," "Flubber," "Jack," "Good Morning, Vietnam" and countless others, as well as a standup comedy career.
---
Hunter S. Thompson
HUNTER S. THOMPSON The founder of "gonzo journalism" journalist and author, Hunter S. Thompson took his own life with a handgun on Feb. 20, 2005 after suffering from health issues. He was known for the books "Fear and Loathing in Las Vegas" and "The Rum Diary" both adapted into movies starring Johnny Depp. Some of his other works include: "Hell's Angels: The Strange and Terrible Saga of the Outlaw Motorcycle Gangs" and "Fear and Loathing in America."Thompson's ashes were shot out of a cannon amid fireworks, as per his request, in August of 2005. Celebrities Johhny Depp and Bill Murray were in attendance, as well as a few rock bands.
---
L'Wren Scott
L'WREN SCOTT Fashion designer and stylist Laura "Luann" Bambrough, known professionally as L'Wren Scott, hanged herself on March 17, 2014. Scott began her career as a model and moved to America to serve as a stylist to the stars. She was most recently dating Rolling Stones frontman, Mick Jagger. After bouts with depression, the 49-year-old was found dead in her Chelsea, Manhattan, apartment by her assistant.
---
Alexander McQueen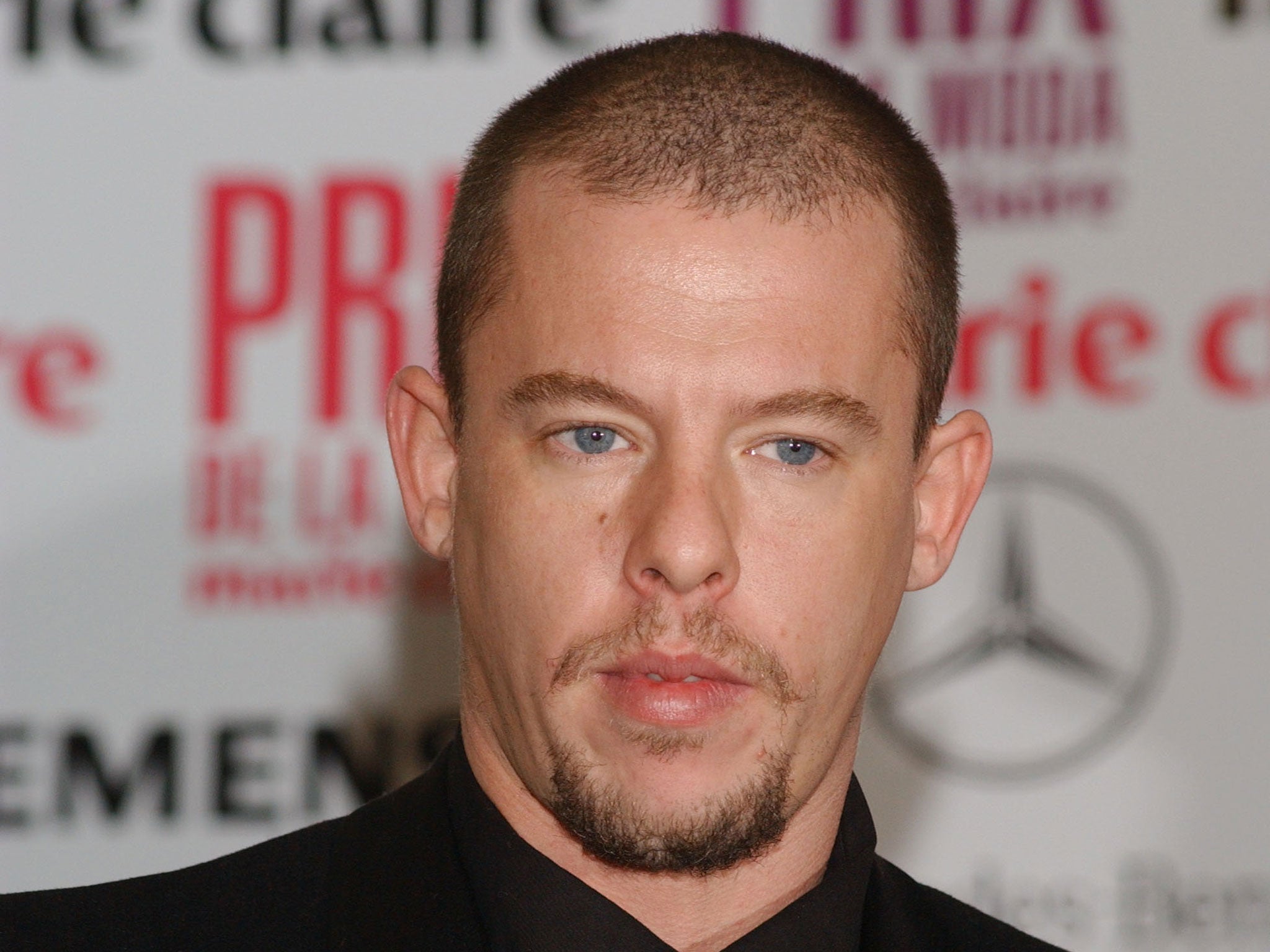 ALEXANDER MCQUEEN British fashion designer, hanged himself on the eve of his mother's funeral in February 2010. McQueen, 40, was found dead in his London apartment. Just following his mother's death, he wrote on Twitter: "Been a f—— awful week but my friends have been great but now I have to somehow pull myself together. "McQueen was named "British Designer of the Year" four times and his clients ranged from music icon Lady Gaga to First Lady Michelle Obama. He died by suicide during New York fashion week.
---
Don Cornelius

---
Junior Seau
JUNIOR SEAU NFL star Junior Seau took his own life by shooting himself in the chest on May 2, 2012. The suicide raised questions about the effects of concussions and it was later discovered that Seau suffered from chronic traumatic encephalopathy, a brain disease caused by multiple hits to the head. Seau was considered one of the greatest linebackers in the NFL, playing for the San Diego Chargers, the Miami Dolphins and the New England Patriots. He was a 12-time Pro Bowl selection and was All-Pro 10 times.
---
ERNEST HEMINGWAY The famous author Ernest Hemingway was known for his great literary works, such as "The Sun Also Rises," "A Farewell to Arms" and "For Whom the Bell Tolls."Hemingway committed suicide by shooting himself in the forehead in the foyer of his Idaho home in July 1961. He took home a Pulitzer Prize for Fiction in 1953 and a Nobel Prize in Literature in 1954  – both for his novel, "The Old Man and the Sea."
---
Margaux Hemingway

Margaux Hemingway Died by Suicide at 41
Margaux Hemingway Battled Personal Demons
by Vincent J. Schodolski and Michael Wilmington, Tribune Staff Writers, July 3, 1996
She was the other Hemingway granddaughter, the one whose turbulent career as a model and actress was haunted by twin demons of drugs and alcohol, the one who soared to early success only to be quickly eclipsed by her younger sister. When she died at age 41, alone in a one-room apartment half a block from the Pacific Ocean, Margaux Hemingway was again trying to recapture some of the fame and fortune that had come early and easily for her.
"There were a lot of great things happening for her," said her friend and agent Graham Kaye on Tuesday, talking about a new line of perfume and clothing she was about to launch and a yet-to be released television film. "She was so excited."
Her life was littered with bouts of depression and an attempted suicide. She fought alcohol and drug abuse and epilepsy and was plagued by eating disorders. Her career was a roller coaster.
Carrier said that it was too soon to know if drugs, alcohol or other substances had been involved. "We have not ruled anything in and we have not ruled anything out." No suicide note was found when Hemingway's body was found Monday. She had not been seen, or heard from since June 26.
Hemingway had attempted suicide at least once. During an April appearance on the television program "Geraldo," she revealed that she slit her wrists one night in the mid-1970s in New York, after a long evening at the Studio 54 disco. She said more than once that her eating, drinking and lifestyle was an imitation of her famous grandfather, Ernest, the Nobel Prize-winning novelist.
"I was trying to live life to the fullest and I thought that I had to drink and . . . my grandfather's books . . . they are all about eating and drinking. And so it runs in the family. Violence and this fascination with death also," she said in the April interview.
Ironically, her body was discovered on the eve of the 35th anniversary of her grandfather's suicide.
Tall, blond and striking, Margaux Hemingway was born in Portland, Ore., in February 1955. The second of three daughters of the writer's first son, Jack Hadley Hemingway, and his wife, Byra, she changed the spelling of her name from "Margot" to "Margaux" after learning she was conceived after her parents had consumed a bottle of wine from the famous French vineyard Chateau Margaux.
She became wealthy at 20 with a $1 million modeling deal with Faberge Inc. to promote a new perfume, Babe. Her newfound fame led to a film contract with movie impresario Dino De Laurentiis, who promised the young beauty stardom."I am going to make you a star. A star like Sophia Loren," he was quoted as saying. "I'm going to make you the greatest star in this country since Marilyn Monroe." De Laurentiis' promises never were fulfilled. Hemingway's movie career had one of the strangest trajectories of the '70s and '80s. It started in 1976 with a bang and quickly trailed off with a whimper.Her first film and starring role, "Lipstick" was a thriller about a superstar model terrorized by a rapist. Yet that picture and her subsequent movie career seemed to be stolen by her then-unknown 14-year-old sister, Mariel.
Margaux Hemingway's Death Ruled a Suicide
by James Rainey, August 21, 1996 
Coroner's office says actress took huge phenobarbital overdose. She reportedly had asked friends where she could get drug.
Actress and onetime supermodel Margaux Hemingway killed herself with a massive overdose of a barbiturate, the Los Angeles County coroner's office announced Tuesday, adding her name to the grim litany of Hemingway family members who have taken their own lives.
Hemingway had about twice the lethal level of phenobarbital in her system when she died, so much of the drug that she succumbed before she could even digest all the pills in her stomach, coroner's officials said.
The announcement came seven weeks after the body of the rangy entertainer with the sky-blue eyes was found by friends in her studio apartment, half a block from the beach in Santa Monica. Police found no note or other evidence of suicide July 1, leaving the cause of Hemingway's death a protracted mystery.
Highly publicized bouts with depression and alcoholism led to speculation that the 41-year-old actress had taken her own life. Her famous grandfather, author Ernest Hemingway, had killed himself 35 years ago with a shotgun blast to the head. His father, brother and sister had also died at their own hands.
---
David Foster Wallace
DAVID FOSTER WALLACE The author David Foster Wallace committed suicide in his home on Sept. 21, 2008. His 1996 novel, "Infinite Jest" was one of his best known tomes and Time Magazine named it one of the "100 Best English-language Novels from 1923 to 2005." He was 46 when he died. In June of 2015, a biopic on Wallace "End of the Tour" was released in theatres. The troubled author is portrayed by actor Jason Segel in the film.
---
Gia Allemand
GIA ALLEMAND Former "Bachelor" star Gia Allemand committed suicide by hanging herself from a vacuum cleaner cord in her New Orleans apartment in August 2015. The Queens-native, a former Maxim model, was still breathing when her boyfriend, NBA player Ryan Anderson, discovered her near the stairwell of their home. He rushed the 29-year-old to the hospital, but due to severe loss of brain and organ function, Allemand's family made the decision to remove her from life support. For years leading up to her suicide, Allemand suffered from premenstrual dysphoric disorder, which led to extreme emotional swings and symptoms of depression.
---
Chris Cornell
 Chris Cornell Died by Suicide at 52 Years Old
Chris Cornell, who first gained fame as the lead singer of Soundgarden and later the band Audioslave, was found dead. He died by suicide by hanging ,at MGM Grand Detroit following the band's performance in Detroit, PEOPLE confirms.
Chris Cornell, the legendary frontman of Soundgarden who was known to possess one of the most powerful voices of the grunge era, has died by suicide at 52, the Associated Press reports.
"Chris Cornell passed away late Wednesday night in Detroit, Michigan," Cornell's representative, Brian Bumbery, said in a statement to PEOPLE. "His wife Vicky and family were shocked to learn of his sudden and unexpected passing, and they will be working closely with the medical examiner to determine the cause. They would like to thank his fans for their continuous love and loyalty and ask that their privacy be respected at this time." The 52-year-old had been touring with Soundgarden at the time of his death.
Born in Seattle in 1964, Cornell was a fixture of the grunge generation, leading Soundgarden and supergroup Temple of the Dog in the late '80s and into the '90s. Cornell formed Soundgarden in 1984 with bassist Hiro Yamamoto and guitarist Kim Thayil but the band wouldn't find mainstream success until the 1990s with the release of 1991's Badmotorfinger (which included the hits "Jesus Christ Pose," "Outshined," and "Rusty Cage") and 1994's Superunknown ("Black Hole Sun," "Fell on Black Days," "Spoonman," "The Day I Tried to Live"). The success of Superunknown culminated with two Grammy wins ("Black Hole Sun" nabbed Best Hard Rock Performance and "Spoonman" received Best Metal Performance) and it has sold nearly 9 million copies since its release, making it one of the biggest grunge-era records alongside releases by Pearl Jam and Nirvana.
"We're clearly pioneers of that genre," Cornell told Rolling Stone of the term "grunge" in a 2014 interview pegged to the 20th anniversary of Superunknown. "So imagining that we weren't part of it — if we were from somewhere else — when that story is told we would not have been part of it. That comparison could be Jane's Addiction or Smashing Pumpkins, who won't necessarily get mentioned when some new rock fan is researching these dramatic pivotal moments. So for that reason, I feel whatever we had to put up with over the years, all the Seattle questions, it's worth it."
Soundgarden split in 1997, after which Cornell began his solo career, releasing Euphoria Morning in 1999. Soon after, Cornell joined up with the remaining members of Rage Against the Machine, minus lead singer Zack de la Rocha, to create the band Audioslave. The group released its self-titled first album in 2002, the same year Cornell separated from his wife and checked into rehab. "It was the most difficult period of my life," he said in a 2009 interview with The Guardian. "I'm lucky I got through it." Of rehab, Cornell told the publication, "I'm not sure if it was the best place for me, but it worked."
Cornell previously touched on his drug use in a 1994 interview with Rolling Stone. "I went from being a daily drug user at 13 to having bad drug experiences and quitting drugs by the time I was 14 and then not having any friends until the time I was 16. There was about two years where I was more or less agoraphobic and didn't deal with anybody, didn't talk to anybody, didn't have any friends at all. All the friends that I had were still f—ed up with drugs and were people who I didn't really have anything in common with."
After Audioslave and more solo work (including the theme song to 2006's James Bond reboot Casino Royale), Soundgarden reformed in 2010. In addition to touring with his most-famous band, Cornell also recently completed a nationwide tour with Temple of the Dog — which is comprised of members of Pearl Jam, including current member and former Soundgarden drummer Matt Cameron.
---
Stevie Ryan
Stevie Ryan died by suicide by hanging. She was 33. The coroner's office confirmed online that Ryan died on Saturday, July 1, 2017.
The actress first rose to fame through her YouTube series called Little Loca, and later transitioned to doing celebrity parodies on the video platform.
"I remember waking up and one Little Loca video had like 900 hits and I was like 'Oh, my gosh. There's people watching this?' " Ryan told The Hollywood Reporter in 2012. "And it just kept going and then I did this Paris Hilton thing and then it literally was just growing and growing. And I just became so obsessed with all of it."
Ryan parlayed her impersonations into a pop culture sketch series on VH1 called Stevie TV from 2012-2013, and was later a co-host of Brody Jenner's E! series Sex with Brody.
She was most recently the co-host of Mentally Ch(ill), a "podcast about depression," according to its iTunes description. In an episode released just two days before Ryan's death, she revealed that her grandfather died Thursday.
"I'm just worried that this is going to send me into a deeper depression," she explained. During the episode, Ryan and co-host Kristen Carney also discussed suicide.
Carney tweeted on Monday, "RIP @StevieRyan The coolest girl I've ever known."
---
Chester Bennington
Chester Bennington, the frontman of the alternative rock band Linkin Park, died by suicide at the age of 41. 
The musician was found in a private residence on the morning of July 20, 2017.
The Linkin Park musician performed at the funeral for Cornell, who died by suicide in May. "You have inspired me in many ways you could never have known," Bennington wrote in part in a moving tribute shared on Twitter after Cornell's death. Bennington was 41 and leaves behind his wife, Talinda Bentley, and six children from two marriages.
According to TMZ, law enforcement officials said Bennington hanged himself and that his body was found by an employee just before 9 a.m. Thursday at a private residence in Palos Verdes Estates, a district of Los Angeles County.
Bennington was born in Phoenix, Arizona on March 20, 1976, and developed a love for music at a young age. Songwriting became his outlet after suffering sexual abuse as a child and spiraling into drug addiction following his parents' divorce at age 11. "I have been able to tap into all the negative things that can happen to me throughout my life by numbing myself to the pain so to speak and kind of being able to vent it through my music," he told Spin in 2009.
Since forming in 1996 in Los Angeles, Linkin Park has released seven albums and scored Top 20 singles such as "In the End," "Numb," "Breaking the Habit," and "What've Done." (Bennington joined the band in 1998.) In 2004, the band collaborated with JAY-Z for Collision Course, a mash-up EP that combined Linkin Park songs with JAY-Z tracks and spawned the Grammy-winning single "Numb/Encore."
The band released its latest album, One More Light, in May of this year. The album featured collaborations with rising pop singer Kiiara ("Heavy") and rappers Pusha T and Stormy.
"Chester Bennington was an artist of extraordinary talent and charisma, and a human being with a huge heart and a caring soul," said Cameron Strang, head of Linkin Park's record label Warner Bros. "Our thoughts and prayers are with his beautiful family, his bandmates and his many friends. All of us at WBR join with millions of grieving fans around the world in saying: we love you Chester and you will be forever missed."
"I tried so hard and got so far, but in the end it doesn't even matter. I had to fall to lose it all, but in the end it doesn't even matter…Something takes a part of me." ~from Linkin Park song
I am very sorry but this next video will make you cry. It makes me cry everytime I see it and hear it, but it is a very touching, important, meaningful and beautiful rendition of this song. I hope you enjoy the beauty and meaning of it…
This is an absolutely BEAUTIFUL tribute to Chris Cornell and Chester Bennington sung by Chris Cornell's 12 year old daughter and One Republic. RIP Chris Cornell and Chester Bennington. I love you both.
I wanted to play this song and video also to share this as a tribute to honor and respect and love and remember ALL the many people who have died by suicide throughout our lives and throughout history. RIP all of you beautiful and precious people. I love you all always and forever. I hope you are all at peace now…
World Suicide Prevention Day is observed on September 10th of every year and it is National Suicide Prevention Month throughout September of every year.
For those suffering from depression, the National Suicide Prevention Lifeline can be reached at (800) 273-TALK (8255)
---
September is National Suicide Prevention Awareness Month
I am a numerous suicide attempt survivor. Praise God, I am still alive today.
I am a Mental illness advocate and it is my passion to educate about mental illness, increase awareness about mental illness, reduce the stigma of mental illness and the stigma associated with suicide and I want to and must reduce the alarmingly increasing rate of suicides around the world today.
I continue to make a daily post about suicide everyday throughout the month of September for Suicide Prevention month. This is post #24 and if you have missed my previous ones, please check them out on my blog. Also, continue looking on my blog for more daily posts about suicides for the rest of September.
We must always remember the too many beautiful, precious lives lost to suicide everyday. We must never forget these wonderful people and keep them alive by their memories and their stories.
Always remember that their lives were and are important and that their lives mattered. They made a difference in the lives of many and impacted the world in some and many beneficial ways. The many people who died by suicide mattered and always will.
Remember their names and speak to families about them. Do not be afraid. That is what the families want. They want to remember their loved ones and they want other people to remember them in positive ways. Talk to people and love them with fond memories.
Always remember with love and respect all the many beautiful and precious lives we have lost to suicide.
We all need to do our part and do MORE. The first steps are accepting and understanding others with kindness, compassion and love. We all need to educate and learn more about mental illness and suicide and suicide prevention. Start the dialog and be a voice.
We must all make our voices heard very loud and strong about mental illness, mental illness stigma, the stigma associated with suicide and suicide prevention. It is critical. It is crucial. Each life is priceless.
We must prevent suicides and save lives.
Please know you are all loved and you all matter…
 You make a positive difference in the world and in the lives of many people every day.
Pamper yourself and everyone you know with love.
Surround yourself daily with people that love you and treat you kindly.
God bless you all always and forever…
Love and hugs, Sue