"Imagine a community that is unafraid of mental illness. Imagine a place where conversations about mental illness are met with compassion, without whispering and without judgement. That is our vision" ~Mental Health Coalition of the Greater La Crosse Area
That is my vision as well. That is all of our visions…
---
Sadly, here is a story of another life lost to suicide and a family left to struggle with their grief and unanswered questions that they will never have the answer for.
Positively though, this is another family honoring their son in a way that will help many other people by educating about mental illness and suicide. Thank you very much Reckase family and thank you to the La Crosse Tribune for posting a great article to help our cause to help stop the stigma of mental illness and prevent suicides.
I love this family as they were great parents, because they tried many ways to help their beautiful son and never gave up on him. This is something I always wished my family could have and would have done for me any time during the last 25 years. However, I have never and nor will I ever get support from my own family.
It is very important and necessary for those living with mental illness and suicidal thoughts to have support.
I live in La Crosse, Wisconsin and this suicide occurred in my home town. This article was published in my local newspaper and was very well written with many important insights and messages from the parents.
I have also included another article related to the death by suicide of David Reckase and his family. His obituary is posted at the end of my post, as well.
Please read this post in its entirety. I feel all of this information is very important, valuable and beneficial for all of us.
Sadly, another precious and beautiful person that died from the painful disease of depression and mental illness with the dangerous and dreadful symptom of suicide being the final and end result. Mental illness can be a terminal illness. People need to understand this.
We cannot nor will I be tentative about this. We must reduce the stigma of mental illness and suicide by educating and getting our voices heard and spread throughout the world.
Son's Death Propels La Crosse Couple to Push for Suicide Awareness
Mike Tighe mtighe@lacrossetribune.com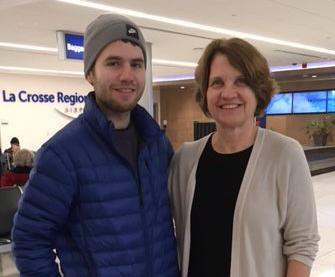 David Reckase's parents believe that talking openly about the fact that he took his own life reveres him and helps convey the message that many people struggle mightily with suicidal thoughts.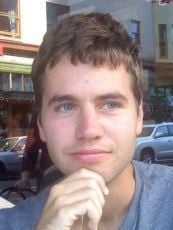 Toll of 17 So Far Ties all Last Year
The tragedies have taken the lives of 17 people in La Crosse County this year, concerning not only surviving families and friends but also members of the La Crosse Area Suicide Prevention Initiative. In addition to sharing the grief, initiative members lament the fact that those 17 deaths match the number tallied during all of last year.
The toll adds a somber tone and greater urgency to the initiative's 12th annual awareness event at 6 p.m. Tuesday at Riverside Park and its ninth annual Suicide Prevention Summit from 8:30 a.m. to 5 p.m. Wednesday at the Radisson Hotel.
Although the number of deaths is down since a record 26 in 2014, the fact that 3½ months remain in the year is disconcerting, said Judy Shoults, an initiative member and longtime advocate for mental health stemming from her own battle with depression.
"We are still determined to make a difference, to reach out and get our name out there" as a resource to help people, Shoults said in an interview. "We are hoping it helps.
"We don't hear about cases where we were successful" in helping a person struggling with suicidal thoughts choose life instead, she said. "We continue to go on faith."
David Reckase also leaned on faith, worked hard to find a career and was committed to a healthy lifestyle during his fight with depression and social anxiety, a fierce conflict in which he won some battles and lost others, Dan and Mary said.
Exhausted but trying
"A week before he died, he told me he was so worn out," Mary said. "He had a lot of insight into his illness. It was exhausting, but he desperately wanted to create a life, and he worked hard. He was willing to try anything.
"I would tell him, 'You are the bravest person I know,' " she said.
On May 9, the day David went into the Mississippi River off Houska Park, he had had an optimistic session with his counselor, Dan said. Two hours before David entered the river, Dan had a positive discussion with his son in which his mood was upbeat and he didn't seem depressed.
A witness at the park, who did not know David, told police that a man in the river was calling for help. Two fishermen found his body May 18 in the Mississippi about 30 miles south of La Crosse, near New Albin, Iowa.
Asked whether they believe that David's cries for help might have indicated he had changed his mind, Dan and Mary said they obviously never will know.
"That always will be a question that he was calling for help," Mary said.
Despite that uncertainty, the Reckases have absolutely no doubts about how hard David fought in his quest to survive his illness.
"It was a life that was difficult, yes, but courageous and meaningful," Mary said, adding the ironic fact that a friend even credited David with pulling him through a dark depression of his own. "David had an honorable life."
A graduate of Central High School, David was athletic, interested in basketball early on but shifting to tennis because his 5-foot-2 stature as a freshman didn't lend itself to a game that puts a premium on height, Dan said. He was on the varsity tennis team at Central, where he was named Mississippi Valley Conference Player of the Year. He played at at St. Mary's University in Winona, Minn.
David Reckase found solace in a trip out West after two attempts to take his own life, including a trek to Hurricane Ridge in Olympia National Park in Washington State.
Depression diagnosed in college
"He seriously struggled in high school, limiting his ability to have a full life," said Dan, who added that the formal diagnosis of depression came after college.
David entered inpatient treatment several times, including a period just a week before his death, Dan said.
David "struggled to develop a career plan," Dan said. "David was so gifted in so many ways, and he had a desire to succeed."
David worked at and volunteered for nonprofit organizations and held down retail jobs, his parents said.
"He realized the therapeutic value of work. He wanted to have a job," said Dan, who is controller at the People's Food Co-op in La Crosse.
"These individuals are seeking what we all are, to be seen for making contributions to society. The illness often prevents them from being seen for what they can be," said Mary, director of Great Rivers 211, an information, referral and crisis line that serves Coulee Region residents 24 hours a day.
While some people might find irony in her occupation considering David's fate, she is not alone in being a mental health professional whose family fell victim to the disease. If anything, it is testimony that mental health issues can affect any family at any time.
Striving for matching opportunities
David's final job was at a Shopko store, where he was able to work four to six hours a day, but more than that overwhelmed him, Dan said.
"A big topic (in the mental health field) is to make opportunities match what's achievable in a person's work and living," Mary said. "So many people's needs are so great."
David wrestled with medications, as doctors and patients often face the arduous task of trial and error to determine combinations of pharmaceuticals in a process that can wreak havoc with a person physically and mentally, Dan said.
For example, on the first day David was on one new medication in particular, it was so tough on his system that he said, "I will do this today, but I can't ride it out," Dan recalled.
After working at various jobs for a few years, David overdosed for the first time but did not leave a note. He left a note before a second attempt, but not before his fatal one.
Acknowledging that he needed to minimize the amount prescription medicine available to him, David chose to limit delivery to twice a week instead of the typical larger supplies, Dan said.
David found solace in his faith. A religious mentor at Olivet Lutheran Church was a source of comfort and guidance, Dan said.
Also recognizing the value of physical activity in helping provide mental health, David was dedicated to exercise and routinely went to the YMCA.
In short, he persistently sought avenues to help himself, his parents said.
Many families face challenges
"We've come to know a number of families who are living with mental health challenges," Mary said. "Facing this takes a lot of courage.
"Seeking more support and information about mental illness is very helpful," Mary said. "As a family, we learned a lot about how to best help David and learned a tremendous amount from David himself. We learned to listen and respond in helpful ways, to give him space when he needed it."
The Reckases, who also have another son, Will, hope that their candor can help others. They strive especially to counteract the stigma that can cling to mental illness and suicide, in spite of several local and national initiatives that promote the ideas of open discussions and the need for people to check up on each other.
Although resources are available in the Coulee Region, counseling, support groups, treatment programs and other initiatives, the Reckases believe there is a need for supported living programs, similar to group homes for people recovering from alcohol and other drug dependencies.
"There are programs in certain parts of the country, but they are not readily accessible," Mary said.
Such programs also generally are not covered by insurance, and their costs are akin to the bill for a college education, Dan said.
"We traveled to Massachusetts to visit a program that was excellent, but turned out not to be right for David," Mary said.
Echoing the need to erase the stigma and promote community awareness is Vince Hatt, who knows the Reckases and wrote a column about them and David headlined, "Let's change how we talk about suicide" that appeared in the June 3 Tribune.
"David died of a disease. Suicide is death by illness, not something someone wills," Hatt wrote.
Hatt cited the definition that the The Mental Health Coalition of the Greater La Crosse Area uses, describing mental illness as "the collection of symptoms and behaviors of biological disorders in the brain."
"These are 'irregularities of biochemistry,'" Hatt wrote. "They are 'not flaws in character or morality.'"
'Emotional equivalent of cancer'
Hatt characterized suicide as "the emotional equivalent of cancer, and all the care in the world cannot, at times, save a loved one from death. The harsh reality is that sometimes even unconditional love is not enough." (I have always compared mental illness to cancer, as well. So, I love this part. Thank you. These sentences were written by me, Sue)
In addition to counseling and self-help books, the encouragement from others has been vital in helping the Reckases navigate their cycles of deep grief and fond memories.
"The support of friends and family and the community have been heartwarming and really given us courage," Dan said. "Part of what allows us to be open is the way we were embraced and the stories from people about others who are struggling."
"We're not the only ones," Mary said. "We want to be part of a movement. We believe in mental health recovery."
---
Echoing the need to erase the stigma and promote community awareness, Vince Hatt, who knows the Reckases wrote a column about them and David headlined:
Let's Change How We Talk About Suicide
by Vince Hatt of La Crosse, WI
Jun 3, 2017
I opened the obituary page and read that David Reckase, 29, of La Crosse, took his life on May 9, 2017.
First, I felt intense sadness. Later, a feeling of gratitude for his parents, Mary Mundt Reckase and Dan Reckase.
The wave of sadness was much like the wave of sadness I felt when I read a similar statement a few years ago: "Susan died after a long struggle with breast cancer." Like Susan, David died of a disease. Suicide is death by illness, not something someone wills.
Part of the sadness for both David and Susan was that they had both tried so hard. With determination and courage, they explored different therapies and self-healing and yet, after several years of trying their diseases won. While treatment for both diseases has improved, it still wasn't good enough.
The Mental Health Coalition of the Greater La Crosse Area defines mental illness as "the collection of symptoms and behaviors of biological disorders in the brain." These are "irregularities of biochemistry." They are "not flaws in character or morality."
Still the stigma exists. For example, how do you read such obituaries? Is there unconscious judgment in your thoughts?
One goal of the Mental Health Coalition is to reduce the stigma of mental illness. That is the reason for my gratitude for David's parents. Mary and Dan courageously chose to share the cause of his death. They spoke with honesty and vulnerability. In their grief, they took a brave step toward reducing the stigma of mental illness. David died of a disease, not a character flaw.
We have a long way to go to end this stigma. A woman told me that when she was in the hospital for cancer surgery, she received dozens of cards, several phone calls and many flowers. After she left the hospital, she often was asked how she was doing. Sometime later, she was in the hospital for depression. There were no cards, no phone calls and no flowers. After she left the hospital, no one asked her how she was doing.
We have come a long way with alcoholism. Many people see it as a disease. We are not nearly that far with mental illness.
Those of us who knew David should not spend too much time and energy second-guessing ourselves with thoughts like: "What more could I have done? If only I had reached out more when I had a chance." Suicide is the emotional equivalent of cancer, and all the care in the world cannot, at times, save a loved one from death.
The harsh reality is that sometimes even unconditional love is not enough.
It is important we change our language around mental illness. David died by suicide.
He did not "commit suicide" no more than Susan "committed cancer."
It is better to say someone "has depression" rather than say "is depressed."
We don't say, "Susan is cancer", she has cancer. Words matter.
I just returned from the funeral of David Reckase. His parents continue to be courageous. Mary led the Prayer of the Faithful. We prayed not only for David but for all who suffer with mental illness and those who care for them. Dan spoke eloquently of David. Although David had depression, he was so much more. He was athletic, humorous, smart and caring. Most of all, he wanted to make the world a better place with his gentle presence.
When I was young, people who died by suicide were not buried in the Catholic Church. It was presumed they had committed a mortal sin. Thank God, those days are long gone.
We have a much better understanding of psychology and theology. Psychologically, many people who die by suicide are long past the place of moral freedom. Their main goal is not to kill themselves, but to get relief, relief from the haunting, horrible, incessant, never-ending black cloud of despair that fills their consciousness.
They do not reject God. They have concluded that they are unable to bear more pain.
Theologically, the Catholic Church sees God as a God of love, not punishment. As Father Ron Rolheiser says, "God's love, healing, understanding and forgiveness reach into those places where we cannot. Moreover, as we know, most suicide victims are over-sensitive, wounded persons, too bruised to be touched. God's touch is gentler than our own."
May the peace that David Reckase never experienced in this life be fully his with God in heaven. Amen.
---
Obituary in La Crosse Tribune
David Reckase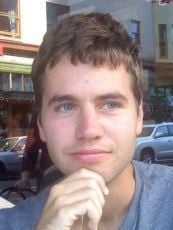 May 22, 2017
David is survived by his parents and his brother, Will Reckase.
This past weekend, memorial candles were lit for David at Olivet Lutheran Church on French Island.
A memorial gathering will be from 5 to 7 p.m. Monday, May 29, at Houska Park shelter, La Crosse. A Mass of Christian burial will be held at 10 a.m. Tuesday, May 30, at Roncalli Newman Center in La Crosse, 1732 State St.
In lieu of flowers, memorials to the National Alliance on Mental Illness (NAMI) of La Crosse County, PO Box 595, La Crosse, Wis., 54602, would be appreciated.
---
September is National Suicide Prevention Awareness Month
I am a numerous suicide attempt survivor. Praise God, I am still alive today.
I am a Mental illness advocate and it is my passion to educate about mental illness, increase awareness about mental illness, reduce the stigma of mental illness and the stigma associated with suicide and I want to and must reduce the alarmingly increasing rate of suicides around the world today.
I continue to make a daily post about suicide everyday throughout the month of September for Suicide Prevention month. This is post #19 and if you have missed my previous ones, please check them out on my blog. Also, continue looking on my blog for more daily posts about suicides for the rest of September.
We must always remember the many beautiful and precious lives lost to suicide every day. We must never forget these wonderful people and keep them alive by their memories and their stories.
Always remember that their lives were and are important and that their lives mattered. They made a difference in the lives of many and impacted the world in some and many beneficial ways. The many people who died by suicide mattered and always will.
Remember their names and speak to families about them. Do not be afraid. That is what the families want. They want to remember their loved ones and they want other people to remember them in positive ways. Talk to people and love them with fond memories.
We all need to do our part and do MORE. The first steps are accepting and understanding others with kindness, compassion and love. We all need to educate and learn more about mental illness and suicide and suicide prevention. Start the dialog and be a voice.
We must all make our voices heard very loud and strong about mental illness, mental illness stigma and suicide prevention. It is critical. It is crucial. Each life is priceless. We must prevent suicides and save lives.
Have a happy, peaceful and healthy day and may your life always overflow with many blessings and…
remember my loud bipolar whispers prayers for peace in your heart, mind and soul, for courage, strength, perseverance, resiliency, compassion, support, healing and love and…
remember my loud bipolar whispers the abundant love in I have in my heart for all of you.
Please know you are loved and you all matter and make a difference in this world.
God bless you all always and forever…
I hope to see you again tomorrow (so to speak) as my loud bipolar whispers more words for suicide prevention…
Love and hugs, Sue